Monthly Archives:
March 2012
I'll take a sleeping pill, please
Yesterday was a mess. A B Here is a bunch of two and three hour bits of fitful sleep. (As in full of fits, not as in would-be-fit-as-a-fiddle-if-you-got-one-of-these). Here is a generic ambien induced straight eight hours of maybe-snoring-maybe-muttering-but-I-didn't-gain-consciousness-so-I-don't-care. Having seen the two, I will take B any day. Stuff happened. As I told Sela, […]
more…
creme brulee
Connor requested creme brulee for his birthday dessert. Crazy simple, really. Simmer 1 quart of heavy cream plus flavoring (in this case 1 tablespoon vanilla) to just boiling. Turn off and let rest. In the meantime, whisk 6 egg yolks and 1/2 cup of sugar (I used brown) Slowly add cream to egg and sugar […]
more…
brain dump and how I need to sleep
Told my kids (the students that is) that part of the creative process was not to edit. Just put it alll down. It will likely be crap. That's okay. woke up at three in the morning, my head buzzing. It does that. Alcohol over a dinner celebrating that I exist was not enough to make […]
more…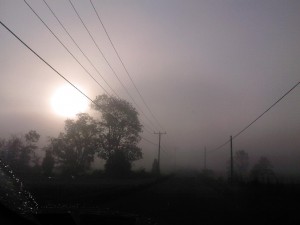 it didn't happen
Subject I Past tense conditional could have should have would have then there would be a past tense verb. But what's weird is that there would be a past tense verb (she whispers, "died") that never happened. Conjugation is such an odd thing. That there could even be a past tense for a non-occurrence. Future […]
more…
a receding blotch
Superstitiously, I look at the fading bruise on my arm. It doesn't hurt at all. It looks pretty bad. This is a metaphor for all of it. After each soporific round, I'm better able to navigate from one end of the room to the other. After each round I look at that bruise and see […]
more…

in defense of facebook (or why I am not an asshole)
So Jezebel posted "The More Facebook Friends You Have, the Bigger Asshole You Are". Granted, she quotes a study regarding a small number of college students who happen to show narcissistic tendencies. She clearly hates narcissists. She possibly hates young people. Probably hates facebook. That's a lot of generous qualifiers to give someone who made […]
more…
Like Food for Pinay
…as opposed to Pinoy …as opposed to "Like Water for Chocolate"…for any of those who don't get any of these references, nvm. Clearly, mom is here. Breakfast of tocino and rice. Yesterday was champorado and bacon. In the fridge are containers of adobo, sinigang, and tinola. I'm good for at least a week. We measure […]
more…
(mom's) Tocino
Marinade: Brown sugar Garlic A little vinegar Soy Sauce Freshly ground pepper Marinate pork for a few days. Same deal with beef, but in which case you'd have Tapa.
more…
and here is where we get technical
Pretty. Not just pretty cool. I might be taking an umbrella to my heart. So here is the diagnosis… A Hole in the Heart – Patent Foramen Ovale (PFO) When a person has stroke or transient ischemic stroke (TIA) "out of the blue" with no obvious risk factors, doctors often check to see if the event […]
more…
conversation with the Bootzer
Evan Mast by Elaine Oyzon-Mast "Tita Weez? How come you go to the right?" "Evan? Is that you?…I had a problem in my brain and it made me go right. But I can go straight now. And left. I can go left and right." "Can you go up and down?" "That's actually kinda hard. But […]
more…